Kenn Munk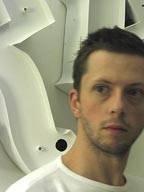 Kenn Munk was born in Kolding, Denmark in 1974 and studied Graphic design 1995-1998 at Design Seminariet, Hojer, Denmark. From 1998 onwards he has worked at Basement Advertising, but in his spare time he works on less commercial and more personal designs.
In 2000 he launched www.kennmunk.com and started the ongoing project 'Versus' with xoz.net. In 2002 he opened a small shop on his Web site and moved to Aarhus where he will continue to make experimental typefaces.
In 2005 his typefaces his typefaces won "best of show" at the "Schrift" show in Sait Petersburg, Russia. Since January 2007 Kenn Munk is a one man design studio, dabbling with anything from graphics over printed adhesive tape and Do-It-Yourself paper hunting trophies to custom made designer toys. He also teaches at workshops at various design schools around Europe.
[Kenn Munk, January 2007]
Fonts designed by Kenn Munk