Dario Muhafara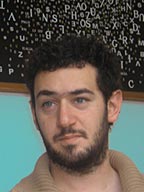 Born in Buenos Aires, Argentina, in 1973. Graphic designer. Has studied design and typography in Ort Argentina, Parsons School and School of Visual Arts in NY.
In 1998 he began to actively take part in the field of typography while at the same time he worked as a teacher of typography at the University of Buenos Aires during the years 2002/3. Has been creating typefaces for several companies like FontFont and Linotype. His more remarkable are FF Jackie, Linotype Cineplex, Malena, and Overlock.
He is currently a member of T-convoca and Bienal Tipos Latinos, both interested in the diffusion of Latin America typography. He is co-founder of Tipo, a digital type foundry from Argentina.
[Dario Muhafara, February 2008]
Fonts designed by Dario Muhafara