Rae Kaiser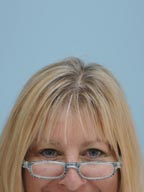 At the risk of being "too inside", Outside the Line type designer Rae Kaiser can best be described by revealing, her favorite movie is Helvetica. Rae is that unique blend of incredible design sense with savvy business acumen. Stereotypically uncommon among artists. This translates into design that is "fun with a purpose".
Blessed as a child with the knowledge (and ability) she would one day be an artist, her designs have garnered international awards and more importantly to her, praise among her clients and peers.
Rae says, "It is the perfect job. I get to wander around in my pjs thinking creative thoughts and making fonts. I am good with type. Love type, am fascinated with type. So I make fonts. The pj's part is just icing!"
[Rae Kaiser, November 2008]