Gerald Gallo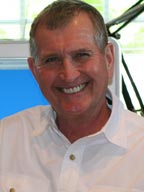 Gerald Gallo established Graphics by Gallo in 1974.
Although offering an extensive range of graphic design services, he specializes in the design of logos, trademarks, service marks, symbols, icons, and letterforms. He has had work published in major design magazines and books featuring his design specialties. He has received awards in local and national design competitions and from companies in the trade who recognize design excellence.
While designing trademarks and logotypes, he often designed unique lettering. It was a natural step to create entire alphabets from some of these designs. He continues to produce commercially available alphabetical, ornament, and speciality fonts which are available from MyFonts.com and Fonts.com.
Gerald Gallo lives and works in Bethesda, Maryland and is a member of the American Institute of Graphic Arts. He is a veteran of the U.S. Marine Corps, enjoys sports car racing, fresh water fishing, running, and trekking the Swiss Alps.
[Gerald Gallo, January 2002, January 2007]
Web: http://www.graphicsbygallo.com/