Jack Yan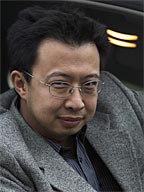 Born in Hong Kong, Jack Yan is a self-taught calligrapher and typeface designer. He read law and business at Victoria University of Wellington, New Zealand. It was while studying that he started his own company, Jack Yan & Associates, originally working in graphic design.
His first typeface family, JY Yan 333, was designed in the 1980s. Since then he followed up with a series of traditional serif families, including JY Integrity, JY Tranquility, JY Pinnacle, and JY Décennie. His first sans serif for JY&A Fonts, JY Décennie Express, was launched in 1999.
In the 2000s, Yan's work has been mostly for private accounts, though he returned to the retail market with JY Alia in 2009.
[Jack Yan, February 2009]
Fonts designed by Jack Yan