David Bergsland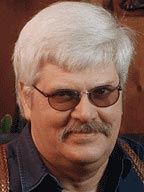 David Bergsland was born in New York, but doesn't claim it. He was raised in Minnesota and was graduated with a Fine Art degree in Printmaking from the University of Minnesota in 1971. He began working as a graphic designer in 1967 and has worked for printers and publishers ever since.
As a designer and art director, David's focus has been typography and custom type design. He began designing fonts in 1993 to use in his books on digital publishing. His readers liked his fonts enough, so he began selling them in the mid-1990s on their request. He's presently working on his seventh book — on InDesign again. He teaches digital publishing full-time and has designed the entire curriculum.
He has several dozen fonts designed, or in the works. His best known typeface designs are Diaconia Old Style and Nordstrom.
[David Bergsland, November 2001]
Web: http://bergsland.blogspot.com/
Fonts designed by David Bergsland