Mark Simonson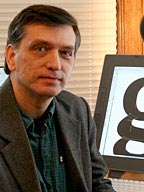 Information about the typeface designer Mark Simonson and his fonts.
Mark Simonson has been a graphic designer and illustrator since 1976. Early in his career he worked mainly as an art director on a number of magazines and other publications including Metropolis (a Minneapolis weekly, 1977), TWA Ambassador (an inflight magazine, 1979-81), Machete (a Minneapolis broadsheet, 1978-80), Minnesota Monthly (Minnesota Public Radio's regional magazine, 1979-85), and the Utne Reader (1984-88). He was head designer and art director for Minnesota Public Radio (1981-85) and an art director for its sister company, Rivertown Trading Company (1992-2000).
Mark licensed several fonts to FontHaus in the early 1990s, including Felt Tip Roman and Proxima Sans, and returned to active typeface development in 2000 when he opened his own shop, Mark Simonson. Although at first he was mainly doing graphic design and web design projects, by 2006 he was devoting most of his time and energy on lettering and typeface development.
[Mark Simonson, March 2006]
Fonts designed by Mark Simonson (A-Q):
A-Q R-Z