James Grieshaber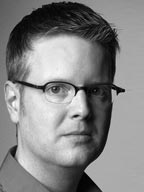 James Grieshaber earned a BFA in Graphic Design from Rochester Institute of Technology. He was on staff of P22 type foundry and helped establish International House of Fonts. He has been honored with awards of Excellence in Type Design from Association Typographique International (for Gothic Gothic) and TypeArt'05 (for Operina Cyrillic).
Designer and Co-editor of the Indie Fonts book series, Grieshaber now teaches typography at RIT and runs Typeco, his own type design studio, in Rochester, NY.
His type designs include P22 Arts and Crafts Tall, P22 Arts and Crafts Hunter, P22 Posada, P22 Art Deco Chic, P22 Cusp, P22 Gothic Gothic, P22 Operina, Glyphic Neue, Chunkfeeder, Cypher, Super Duty, Trapper, P22 Woodtype, P22 Cezanne Pro, P22 Nemismatic, P22 Yule, and P22 Operina Pro.
[James Grieshaber, March 2006]
Fonts designed by James Grieshaber