Gábor Kóthay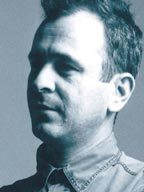 Gábor Kóthay was born in 1962. He is a type designer, multi-disciplinary artist, and art teacher. He is a graduate of the Academy of Fine Arts, Budapest, and has been designing professionally since 1991. His work has been showcased in annuals and magazines including Creative Review, Item, and Punctum, and he has won multiple awards for his installations.
He, his wife, and daughters make their home in Szeged, Hungary. Gábor describes his town as "quite human/comfortable".
His type collection is called Fontana. His typefaces also can be found in the T26, Psy/Ops, and International House of Fonts type libraries.
[Gábor Kóthay, January 2003]