Amondó Szegi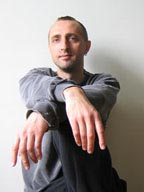 Information about the typeface designer Amondó Szegi and his fonts.
Amondó Szegi was born in Szentes, Hungary, in 1964, and is a designer, painter, and performer. He lives in Budapest and now works as freelance designer.
He has worked as a bookshop assistant, worker, newspaper editor, electrician, and boilerman. He is a co-founder of the Fontana Type Foundry (Szeged). He has been designing typefaces since 1999. His typefaces can be found in both the T-26 type library and P22/IHOF. Among his most well known typeface designs are Telegdi Antique and Mantra (P22/IHOF) and Xodus, Kozma Ornaments, Alian Ornaments, Glosso, Iskola and Melico (T-26).
[Amondó Szegi, July 2006]
Fonts designed by Amondó Szegi: