Lennart Hansson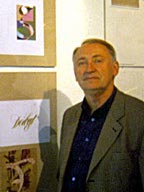 Lennart Hansson was born in Sweden and studied graphic design and calligraphy in Stockholm. He became later an art director and was working for advertizing agencies in Malmo. His first international typeface Lennart was a photosetting type for Lettergraphics International in Culver City, California and released in 1972.
In 1977 Lennart founded his graphic design studio in Malmo. He creates identity programmes, trademarks & logotypes, typefaces and calligraphy. In the 1980s he designed Inga and Hansson Stencil for Mecanorma letter-press in France.
Lennart has shown his calligraphy, 1990-1992, in LETTERS/LINES/IMAGES, the first major international exhibition of Western calligraphy to travel across the United States. In 1993 he won the Nordic Typeface Competition in Copenhagen for his typeface Runa Serif. In 1994 Lennart became a member of AgfaType Creative Alliance. Renasci is among his most well known typefaces, a design inspired by letterforms and ornaments from inscriptions in stone of the European Renaissance.
[Lennart Hansson, July 2007]
Fonts designed by Lennart Hansson