Jan Erasmus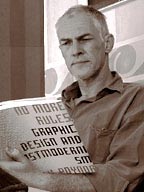 Jan Erasmus was born in Kroonstad, South Africa, in 1952, and studied Graphic Design in 1972-1975 at Johannesburg Technikon and at Philadelphia College of Art during 1977-1978.
After working for a few years he started a partnership in Graphic Design, Pinpoint Graphics, in Johannesburg. After 7 years he left to set up his own Graphic Design studio in 1990 called CyberGraphics.
He still lives in Kensington, Johannesburg with his son and 2 Burmese cats. Among his most well know typeface designs are Thornface, Transition, Nando's, and the FIFA World Cup 2010 font Menyaka. He has also done a few proprietary typeface design for consistency in Brand personality expression for agencies.
[Jan Erasmus, January 2007]
Web: http://www.cybergraphics.bz/
Fonts designed by Jan Erasmus