Lars Bergquist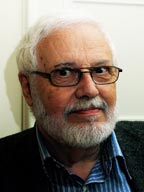 Lars Bergquist was born in 1936. He is by training a historian, but defected to the world of reference works publishing, where he learned classic letterpress from the ground up, became an expert on lexivisual test-image integration and on typographically structured text, and developed a love of classic letterforms.
During the 1990's he began producing typefaces, mainly for the Macintosh, selling them first directly through his firm Timberwolf Type, now mostly through U.S. distributors. His best known typefaces are Sarabande, Pavane, Ronsard, and Philomela.
Bergquist, who is a member of the Bild och Ord Akademin, the Swedish Academy of Lexivisual Information, is also a small arms expert and an avid photographer, and lives in the woods north of Stockholm, Sweden.
[Lars Bergquist, November 2001]
Web: http://www.timberwolftype.com/
Fonts designed by Lars Bergquist