Jason Castle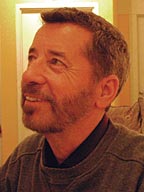 Jason Castle, founder of CastleType, has had a love for books and lettering ever since he could read (and write). Noticing his fascination for what one school teacher considered "ostentatious" handwriting, Jason's father taught him an elaborate form of calligraphy known as copperplate script, which later became the inspiration for his digital font by that name.
In his twenties - during what he calls his "medieval period" - Jason was performing medieval music and studying lettering and illumination of the Middle Ages and early Renaissance. Although never formally trained, Jason continued to dabble (and occasionally excel) in many art forms for most of his life including painting, pen and ink drawing, monotype printmaking, dance, music and singing, writing and calligraphy.
Jason later became a programmer/systems analyst for many years. But, needing a more creative outlet, he eventually combined his love of computers with that of typography and started experimenting with creating digital versions of existing typefaces. Not surprisingly, his first attempt was a face inspired by the Middle Ages, Goudy Text. Jason continued to create fonts for fun and before long began receiving commissions to digitize old typefaces, mostly from the art deco period. Eventually this lead him to dedicating himself full-time to digital type design, reviving antique typefaces as well as creating original designs. Jason has completed custom type design for a diverse corporate clientele including Chevron Corporation, Disney, Condé Nast Publications, Shiseido, and Forbes.
As a native Californian with a diverse range of interests, Jason continues to delve into his many passions including psychology, music composition, tropical gardening and, of course, his first love: type design. It is Jason's continual hope that his delight in his craft will shine through in every CastleType face.
[Jason Castle, April 2007]