Raúl Israel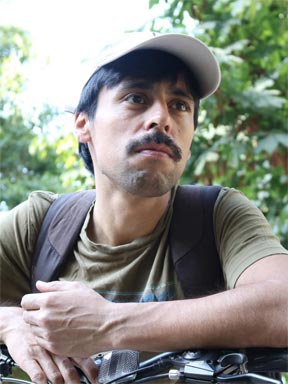 Raúl Israel was born in Chile, in 1987. He comes from Chiloé Archipelago, in the south of the country, and he studied Architecture in 2006 at Universidad Austral de Chile, Valdivia.
In 2015 he studied the Typography and Lettering Degree at the Universidad de Chile, where he developed the LC Tejuela typeface, inspired by the old churches of Chiloé. It was nominated for the TipoType Award in 2016 and published in 2019 by Underground, a spin-off of the TipoType Foundry. He has also published the typefaces Forjada by Latinotype, and Costanera by W Foundry.
In 2018 in association with Franco Jonas Hernandez and Alexis Navarro he created Compañía Tipográfica de Chile, a new foundry based in Santiago de Chile, where he currently designs new typefaces.
He lives between Santiago de Chile and Chiloé and likes to draw and make bicycle trips to new places.
[Raúl Israel, February 2019]
Fonts designed by Raúl Israel