Adam Roe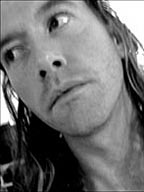 Once a sponsored skateboarder, Adam competed for 14 years. Inspired by skateboarding's energy and creativity, he started Lunchbox Studios in 1991 as an experimental typefoundry.
He is less remembered for his roles as the 5th golden girl "Patty", the A-team's "Tough Guy Johnny Sanjo", and the voice of tv's "Alf".
Adam is also the President and Founder of his second company Reelhouse Footage and FX in Los Angeles, California.
[Adam Roe, July 2006]
Fonts designed by Adam Roe