Richard Yeend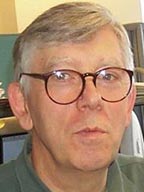 Richard Yeend was born in London, and educated at Canterbury Cathedral Choir School, Kings College, Taunton, and Cambridge School of Art.
Between 1969 and 1974 he was staff cartoonist for The Guardian and The Sunday Times. He then worked as art director for the Boston Herald American (1975 - 1978), The New York Times (1978 - 1987), the International Herald Tribune (1987 - 1998), Die Welt (1998 - 1999), and Journal Europe (since 1999).
He has been a contributor to Newsweek, Fortune, Rolling Stone, New York Magazine, Le Monde, and Berliner Morgenpost. In 1970 designed a neon sign for Lloyds Bank in Picadilly Circus, London, and he drew the logotype for Berliner Morgenpost.
Among the typefaces he has designed are: Abbot Uncial, Broad Street, Comix, Maidenhead, and Saxony Script.
[Richard Yeend, November 2002]
Fonts designed by Richard Yeend