Doyald Young (1926-2011)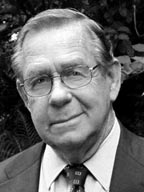 Doyald Young studied at Los Angeles City College, Los Angeles Trade Technical Junior College, Chouinard Art School, and the Art Center College of Design, and taught lettering and logo design at the Art Center College of Design for 27 years. For many years he was a graphics consultant for Caltech, and Henry Dreyfuss. Among the many logos he designed was the company name and corporate font for the Prudential Insurance Company of America.
He was the author of Logotypes & Letterforms (1993) and Fonts & Logos (1999), both published by Delphi Press; see www.delphipress.com. In 2009 he received the Medal for Lifetime Achievement from the American Institute of Graphic Arts (AIGA), and in 2010 the SOTA Typography award from the Society of Typographic Aficionados.
He died in 2011 due to complications following a heart operation.
[DJD, photo Luc Devroye, September 2011]
Fonts designed by Doyald Young