František Štorm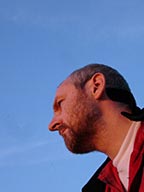 Information about the typeface designer František Štorm and his fonts.
František Štorm was born in 1966 in Prague, Czech Republic. He graduated in 1991 from the Academy of Applied Arts in Prague where he studied book and type design under professor Jan Solpera, and was an assistant at the same studio between 1991-1995.
In 1993 founded the Storm Type Foundry, and today is a freelance type-designer, photographer, xylographer and howling computer programmer.
[František Štorm, November 2001]
Web: http://www.stormtype.com/
Fonts designed by František Štorm (A-E):