Marit Otto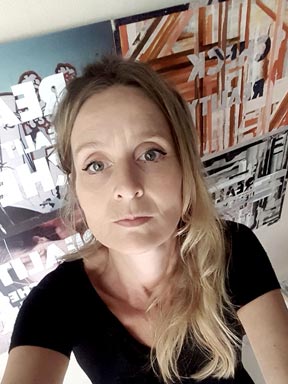 Marit Angenita Otto been has working as an independent visual artist since 1994, with a studio located at Rieteweg 10, Zwolle, The Netherlands. She is a multi-disciplinary artist with a background in graphic design, working in painting, sculpture, and modern media.
A distinctive feature of her work as an artist is the human body in all its shapes, forms, and behavioural aspects. Her art is often a personal reflection of social issues and current affairs, and she is inspired by daily scenes, platitudes, and the absurdities of human behaviour. Although her art is highly aesthetic, it also contains distressing elements that evoke a feeling of uneasiness and this contradiction is a recurring theme.
Typeface design is a relative new discipline. In 2014 her love of graphic design and typography inspired her to create Jazmo, developed for an indoor routing and house number-sign system, and to date she has created a total of 16 typefaces. She finds that the Zen-like monk's work of handling more than 300 characters per typeface provides a good change from her usual daily labour as an artist, and the social themes she encounters in her artworks also influence her typefaces somehow.
Alongside her work as an independent artist she creates and participates in community and educational art projects. She designs for non-profit organisations, private clients, and commercial companies. She is also a participating member of the visual arts committee in Zwolle and a museum host at the museum 'De Fundatie' in Zwolle.
[Marit Otto, March 2020]
Web: https://www.maritotto.nl/
Fonts designed by Marit Otto