Guisela Mendoza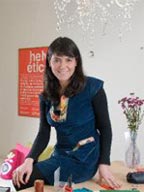 Guisela Mendoza (aka Coto Mendoza) was born in Concepción, Chile, in 1980, and studied Graphic Design in 2001 at DuocUC, Concepción. In 2007 she took a certificate in Visual Comunication at Pontificia Universidad Católica de Chile, Santiago. In 2010 she studied a degree in Design and Innovation at Universidad Mayor, Santiago. And in 2013 she took the Creative Summer workshop at the School of Visual Art of New York, NYC.
After working for five years as a teacher and bookbinder in handmade production, in 2010 she started to design typefaces for Latinotype. She now lives in Concepción with her husband and her son making handwriting typefaces, drawings, and all kinds of handmade things.
Among her most well known typeface designs are Ride my Bike, and the dingbat series which includes Dans le cuisine, Dans le jardin, Dans le Noel, and Dans le Toilette.
[Guisela Mendoza, July 2013]
Twitter: @cotomendoza