Thomas Nagel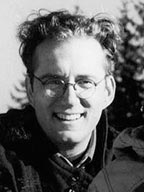 Thomas Nagel was born in Frankfurt, Germany, in 1962, and studied Visual Communication from 1982-88 at Hochschule fuer Gestaltung (HfG) in Offenbach.
After working for three years as art director for Olaf Leu Design, and six years for MetaDesign both in Berlin and San Francisco, he left in 1994 to set up the graphic design studio 'xplicit ffm' in Frankfurt, together with his partners Alexander Branczyk and U. Otto. He is also one of the founders of the experimental typographic collaborative Face2Face which (loosely) publishes the F2F-magazine.
His typeface designs, and many of the other F2F designs, originated mostly for the German techno magazine 'frontpage', published between 1990 and 1997.
[Thomas Nagel, November 2002]
Fonts designed by Thomas Nagel