Ingo Preuss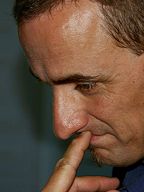 Information about the typeface designer Ingo Preuss and his fonts.
Some biographical highlights:
1961: born in Lauchhammer/Oberlausitz (East-Germany).
1976-1980: Study of Art (Painting, Graphic) HBK Dresden.
1984-1989: Study of Graphic Design (diploma graphics designer).
1989: Launches [cubus :: graFik deSiGN].
Since 1989: Freelance graphic/type/web designer and illustrator.
2003: Launches own type foundry PreussTYPE to release his typefaces.
[Ingo Preuss, October 2004]
Web: http://www.preusstype.com/
Fonts designed by Ingo Preuss: