Gary Munch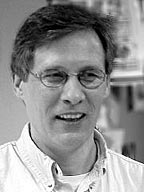 Gary Munch was educated in Stamford, Connecticut and in Eugene, Oregon (University of Oregon BFA 1979). He went on to University of Bridgeport in art education (MS Art Ed 1986). He taught high-school art, design, and computer applications for ten years, and then computer application usage and graphic design at Norwalk Community College for four years, and is now on the faculty of the University of Bridgeport Department of Art and Design.
As a designer, he has maintained a small studio for calligraphy and lettering, and now concentrates on digital type. His type design work leans towards text faces, though an occasional display face is known to wander his hard drives. His typeface designs are licensed to Linotype Library (Ergo, Finerliner, and Really) and FontHaus (Nanogram, UrbanScrawl, PepRally). His designs are viewable on-line at his Munchfonts website. Current technology enables large-multilingual typefaces, and he has designed award-winning faces for Cyrillic and for Greek.
He is currently (2002-2003) the vice-president of the Type Directors Club of New York, was the chairman of the TDC2 2002 Type Design Competition, and is also the web messer for the Type Directors Club website. He is also a member of ATypI (Association Typographique Internationale).
[Gary Munch, November 2002]
Fonts designed by Gary Munch