Andriy Konstantynov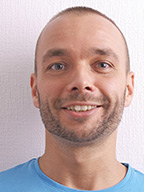 Information about the typeface designer Andriy Konstantynov and his fonts.
Andriy Konstantynov was born in Moscow in 1981, he later moved to Tallinn, Estonia, and then to Kiev, Ukraine. In 2002 he graduated from the National Technical University of Ukraine. He has been a practicing graphic designer since 1998 and a type designer since 2004.
Since both major languages in Ukraine use the Cyrillic script, Andriy's main focus in type design is the creation of multi-language typefaces that contain the Cyrillic character set.
[Andriy Konstantynov, May 2013]
Fonts designed by Andriy Konstantynov: