Franko Luin (1941-2005)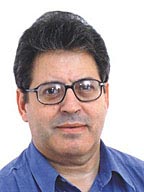 Franko Luin was born 1941 in Trieste, Italy, but in 1961 moved to Sweden, where he studied graphic design and printing technologies at Grafiska Institutet in Stockholm. After 20 years with the telecom company Ericsson's advertising department, in 1989 he started his own design studio, Omnibus Typografi.
Besides designing typefaces he had a keen interest in languages, and particularly the international language Esperanto.
He died in 2005 in Tyresö, Sweden.
[DJD, photo Wikipedia, March 2006]
Fonts designed by Franko Luin