Marc Engenhart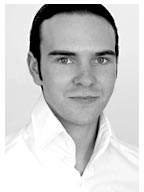 Marc Engenhart was born 1978 and studied communications and information design in Ravensburg, Germany. He is an independent designer and works as freelance project manager and art director for several design agencies.
In 2002 he founded lichtpunkt // network for design and the Fontkitchen type foundry together with Nico Hensel, Heidenheim.
Since 2003, he has managed the development of "lichtpunkt // network for design" and "engenhart visuelle kommunikation" his own visual communications agency in Stuttgart, Germany.
In 2005 he became a member of AED association: Architecture, Engineering and Design, Stuttgart, Germany.
[Marc Engenhart, April 2006]
Web: http://www.engenhart.com/
Fonts designed by Marc Engenhart