Ed Rondthaler (1905-2009)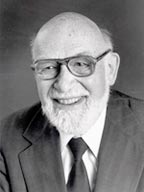 Edward Rondthaler was a typographer who cofounded Photo-Lettering Inc with Harold Horman in New York City. In 1970 he cofounded ITC with Herb Lubalin and Aaron Burns.
He was the editor and author of "Alphabet thesaurus; a treasury of letter designs", 1960, Reinhold, NY.
In 1975, at the age of 70, he received the Type Director's Club Medal – awarded to those "who have made significant contributions to the life, art, and craft of typography". He died in 2009, aged 104.
[DJD, photo Type Directors Club, September 2011]