Russell McGorman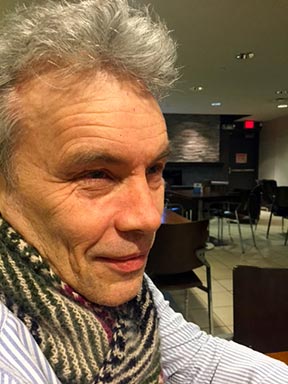 Russell McGorman is a designer and artist, living and working in Toronto, Ontario, Canada.
After graduating from the Ontario College of Art and Design, Russell began work in graphic design as a silk-screen printer and production designer at a small shop in Toronto where he worked on a diverse range of projects, from museum displays and prop signage for film sets to control panels for oil rigs and power generating plants.
After a couple of years, Russell went to work for a regional public transit agency, beginning as a signage and special products designer and later as a Wayfinding Specialist.
He is currently working as a signage and wayfinding design consultant and is owner and operator of Our House Graphics.
Russell began designing and publishing typefaces in 2009. It began with the simple question, "How exactly do digital typefaces work, and how are they made?" and then quickly progressed down that dark path to designing and publishing his own growing catalogue of fonts, all of which are created with a passion for excellence and a love for the art and science of type.
[Russell McGorman, March 2017]
Fonts designed by Russell McGorman