Andreas Leonidou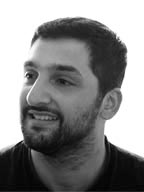 Information about the typeface designer Andreas Leonidou and his fonts.
Andreas Leonidou is a graphic designer from Limassol, Cyprus. He is the founder of ALT Type Foundry, the first type foundry from Cyprus.
Andreas loves to develop original high quality decorative and experimental fonts. Graphic design is his passion and he loves to experiment with new programs and techniques and push himself in various fields, and he's always looking to expand his creativity.
[Andreas Leonidou, June 2011]
Fonts designed by Andreas Leonidou: