Eimantas Paškonis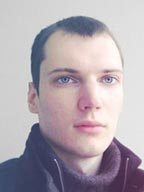 Information about the typeface designer Eimantas Paškonis and his fonts.
Eimantas Paškonis was born in 1989 in Vilnius, Lithuania. He received a bachelor's degree for Graphic Design at Vilnius College of Technology and Design in 2011.
Almost accidentally, his diploma project was a custom typeface which eventually evolved into the Didot-styled and feature-packed Magnel. After seeing that type design was something he'd like to do, Eimantas continues to make multilingual typefaces with OpenType features as a freelancer.
[Eimantas Paškonis, October 2013]
Fonts designed by Eimantas Paškonis: