Ariel Di Lisio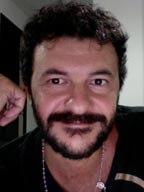 Information about the typeface designer Ariel Di Lisio and his fonts.
Ariel Di Lisio was born on October 29, 1972 in Buenos Aires. He studied Graphic Design at the University of Buenos Aires. From 1993 to 1997 he worked for Puma, and then worked freelance for companies including Bridger Conway. In 2001 he founded Firestudios, which changed its name to Negro in 2005.
He has lectured in Argentina and abroad, including at CEDIM (Mexico) in 2010/2011.
His work has appeared in a number of books on design and typography around the world. ID Magazine selected him as one of the 40 designers in 2009 in its annual edition. Negro was chosen to participate in the Exhibition Now in The Lubalin Center of Design and Typography at The Cooper Union, in 2009, New York.
[Ariel Di Lisio, April 2012]
Web: http://www.negronouveau.com/
Twitter: @arieldilisio
Fonts designed by Ariel Di Lisio: