Richard Kegler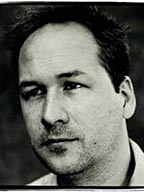 Richard Kegler is the senior partner and founder of P22 type foundry. For years before P22 became a 'real' type designing entity, Kegler had been involved in various aspects of the book arts ranging from hand binding and hand printing to hypertext.
Known for his interest in the history and processes of art and design, this initially seemed to have little in common with his interests in new technologies, but increasingly there seemed to be much common ground. This meeting of old and new has become the premise of P22's collection of fonts.
P22 have created typefaces for a wide variety of clients; poet Rod McKuen (CD, Beatsville) and companies like Starbucks (coffee mugs and packaging) and museums like the Philadelphia Museum of Art (commissioned Cézanne, a font that reproduces the artist's own handwriting, for the museum's exhibit of his works).
""Type was new to me, I didn't know I had the fortitude to do this — the tedium of crafting and fine-tuning the letters. Yet there's something very satisfying about making every letter work with every other letter. It takes mathematics, design skills and technical and computer expertise to make it all come together.""
[SLC]
Most popular fonts designed by Richard Kegler