Vassil Kateliev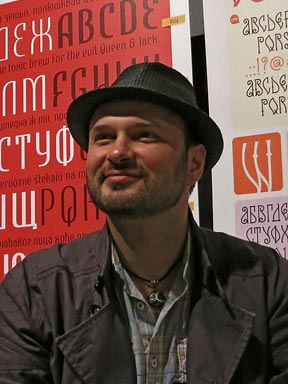 Vassil Kateliev was born 1980 in Varna, Bulgaria. In 2003 he took a bachelor degree in Communication Engineering and Technologies at the Technical University of Varna, and in 2005 he became Master Engineer in Radio Communication and Video Technologies at the same university. Several years later after a very successful career as a graphic designer, he decided to go back to studying and in 2012 he took a second master degree in Industrial design at the Technical University of Varna, where he currently teaches and is writing his doctoral thesis.
Working in the field of Cyrillic type design, he often participates in various type and graphic design exhibitions at home and abroad. In 2013 he was invited to display his works in the New Bulgarian Typography exhibition, part of Sofia Design Week. In 2014 his type family Basil was awarded Special Mention in Cyrillic category at the 7th International Type Design Competition for non-Latin typefaces - Granshan 2014.
Since 2011 Kateliev has been running a small independent type design studio called Karandash. He also works with the Bulgarian calligrapher and graphic designer Jordan Jelev in their collaborative type foundry - The FontMaker.
[Vassil Kateliev, December 2014]
Fonts designed by Vassil Kateliev