Brian Willson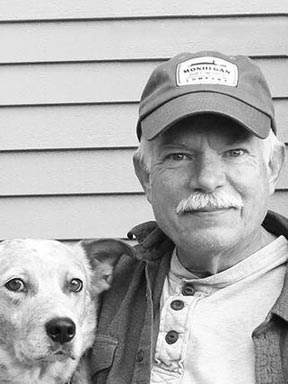 Brian Willson grew up in Austin, Texas, in the 1950s and '60s. He bounced around among jobs for a while - country musician, construction worker, wrecker driver, communications tech - before snagging himself a Radio/TV/Film degree from the University of Texas in 1979. In 1980, he moved to coastal Maine, where he worked as a broadcast and print journalist for many years.
In 1989, Willson founded Three Islands Press (3IP) and self-published a collection of nature essays. About this time, he also developed an interest in digital design and illustration.
In the 1990s, for fun, Willson began tinkering with type design. The implausible result: several now-familiar handwriting, text, and offbeat fonts, among them Texas Hero, Emily Austin, Attic Antique, and Marydale. Willson's niche is authentic old penmanship, and he's so far produced six antique handwriting faces (American Scribe, Emily Austin, Houston Pen, Lamar Pen, Schooner Script, Texas Hero). He also dabbles in historical text simulations. Willson's designs have cropped up in a number of high-profile advertising and promotional campaigns and are popular with genealogists and historical reenactors.
3IP's chief focus these days is web design and hosting; Willson's is birding, hiking, and nature photography. Somehow, he manages to design a font or two a year. And from the distant shores of Penobscot Bay, he remains a diehard Texas Longhorns football fan.
[Brian Willson, July 2006]
Fonts designed by Brian Willson