Edward Johnston (1872-1944)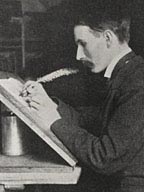 Johnston abandoned his medical studies in Edinburgh and set off for London to "go in for art". He had a stroke of luck. He was put in charge of 'illuminating' classes at the Central School of Arts and Crafts.
He is considered the 'father' of the 20th century revival of formal lettering. His most well-known design is the block letter for London Underground, which is based on Classical Roman proportions.
"Fortunately for me there was no-one to teach me for nobody knew anything about my subject."
[NOM]
Fonts designed by Edward Johnston