Leslie Cabarga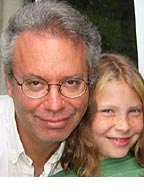 Leslie Cabarga has been a working illustrator and designer since 1970. He has authored over two dozen books on design including "A treasury of German Trademarks", and "The Fleischer Story". As an illustrator he has drawn covers for Time Magazine, Newsweek, Fortune, and National Lampoon. He has also worked as a designer in the art departments of Rolling Stone and San Francisco's City Magazine.
At the age of twelve an interest in lettering surfaced and he spent months copying logos and lettering out of magazines. At 17, he pieced together negatives of an alphabet he had drawn to create a font for a photo lettering Typositer. By 1975 Cabarga was offering hand lettering and logo design services under the nom de plume "Handy Lettering Company". And by 1993 he had created the first of many successful computer fonts that are distributed by Agfa-Monotype, The Font Bureau, and at his own Web site, CabargaType.
His latest books are "Logo, Font and Lettering Bible", How Books 2004, and "The Secret Life of Logos", How Books 2007, which presents the stories behind the creation of 150 logos.
[Leslie Cabarga, July 2006]
Web: http://www.lesliecabarga.com/
Fonts designed by Leslie Cabarga