Donald Beekman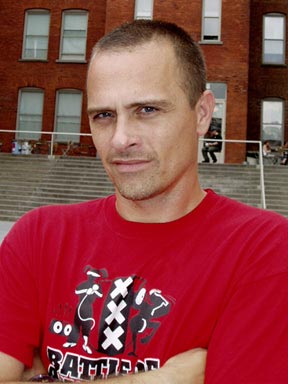 Donald Beekman was born and raised in Amsterdam. After studying at the Rietveld Art Academy he started his own graphic design and music studio called [DBXL]. Over the years he has designed many record and CD sleeves, flyers, posters, logos, identities, magazines and packaging.
Beekman's fonts emanate from logos or artwork he designed for his clients, most of them in the music and entertainment industry, cultural institutions and smart drugs distributor Conscious Dreams.
All his life Beekman has been making music in various bands, and he still composes and produces music and runs the underground record label Illy Noiz. Since 2004 he has been co-hosting radio- and podcast-station Typeradio.
Beekman's fonts are published by FontShop International, Cape-Arcona, and Die Gestalten.
[Donald Beekman, March 2006]
Web: http://www.dbxl.nl/