Claudio Piccinini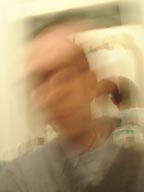 Although not trained in typography and lacking an artistic education, Claudio Piccinini (b. 1969) developed an interest in letterforms in the early 1990s, as the informatization in the field of printing and design reached in full his native Italy.
The first motivation for his letter drawings came as a reaction to the excessive homogeneity and stagnation of type design reached in the 1980s.
Emigré released Ottomat, his first commercial typeface, in 1995. A few other very idiosyncratic types followed, and were made available by Thirstype (now Village) in 1999. To bridge the gap between pencil and constructed letters, he tried to work differently and acquire new skills with Ogilve, released in 2002.
In more recent years his interest grew in many directions marrying non-Latin scripts, historical written forms, synthetic approaches, and text typography. While he would like to give his more recent typographic work a marketable form, type design remains quite a personal affair to him.
[DJD, May 2006]
Web: http://www.tht.it/
Fonts designed by Claudio Piccinini