Carlos Segura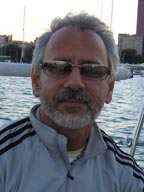 I was born in Santiago, Cuba and came to the United States in 1965 when I was nine. I grew up in Miami, and at a very early age (12) got into a band, originally as their roadie and eventually as their drummer. I remained there until I was nineteen. One of my responsibilities was promotions, and when I left, I threw all that stuff into a book and got my first job as a production artist at an envelope company (my job was to design the return-addresses for bank deposit envelopes).
My first real break was at an advertising agency in New Orleans, and after a few more job changes, I moved to Chicago (always wanting to move here because I liked the way the name sounded) in 1980. I'm glad I did because that's where I met my wonderful wife. I worked for advertising agencies, such as Marsteller, Foote Cone & Belding, Young & Rubicam, Ketchum, DDB Needham, BBDO and more, both here and in Pittsburgh for eleven years until coming to the realization that I was not happy creatively, so I quit and started Segura Inc in 1991 to pursue design. My goal of trying to blend as much "fine art" into "commercial art" as possible, and that is what continues to drive us to this day.
In 1994, the [T-26] digital type foundry was born to explore the typographical side of the business, and that too has been received with open arms. [T-26] Is now distributed throughout the world. In spring of 2000, we founded "5Inch.com", a new way to purchase custom designed blank CDR's and DVD's.
I've been very fortunate to meet many very interesting people, which has allowed all of us here the opportunity to do something for a living that we really enjoy.
I enjoy EVERYTHING about cars (and motorcycles), and you can see what I mean at CarType.com.
[Carlos Segura, March 2006]
Fonts designed by Carlos Segura