Margo Chase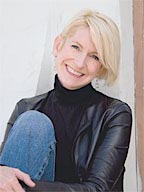 Trained in biology, Margo discovered graphic design in graduate school and was quickly hooked. She founded Chase Design Group in 1986, and has consistently produced and led award winning work in many areas of design. Building on early successes in the music business designing packaging for artists Madonna, Cher, Prince, Bonnie Raitt and others, her studio's dynamic, award winning style can now be seen in work for a long roster of prestigious clients including Sun America, Belkin, Cartoon Network, Chinese Laundry, CVS/pharmacy, Discovery Communications, Mattel, Nestle, Nike, Procter&Gamble, Starbucks, Stila Cosmetics and Target.
In a recent Graphic Design USA reader's poll, Margo was one of only two designers to make the top ten in both "Most Influential Graphic Designers of the Era" and "Most Influential Graphic Designers Today". Chase Design Group also was voted in the top ten "Most Influential Design Firms of the Era". Among numerous other awards, Chase was selected as one of I.D. Magazine's "I.D. Forty".
Her work has been featured in countless design periodicals and books, including Communication Arts, Graphis, I.D., HOW, Radical Graphics/Graphic Radicals, and New Design: Los Angeles. She was recently featured in the celebrated show "Women Designers in the USA, 1900-2000: Diversity and Difference" on exhibition in New York City. She has taught the highest level typography classes at Art Center College of Design and California Institute of the Arts. Outside of the office, she loves to ski, travel and fly competitive aerobatics.
[Margo Chase, October 2009]
Web: http://www.chasedesigngroup.com/
Fonts designed by Margo Chase