Adobe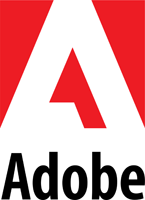 Adobe Systems, based in San Jose, California, was founded by John Warnock and Charles Geschke in 1982. As developer of the Postscript language Adobe stands in a unique position with respect to digital type, and for many years maintained exclusive control over the Type1 font format.
Sumner Stone, their director of typography from 1984, licensed their initial range of fonts from the Linotype and ITC libraries. Alongside the digitizing and publishing of fonts from existing foundries, Adobe pursued their own design program resulting in the release of many original designs, as well as a reworking of classic fonts including Adobe Garamond and Adobe Caslon.
Adobe developed the cross-platform OpenType format in conjunction with Microsoft, and in 2003 released its entire typeface library in OpenType format.
Web: http://www.adobe.com/type/
Most popular fonts published by Adobe