Rosemarie Kloos-Rau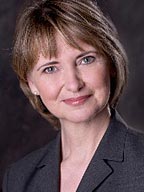 German designer Rosemarie Kloos-Rau was born in 1958 and created Wiesbaden Swing in 1992 for the Linotype company.
This light, informal typeface is based on her own handwriting, which has a feeling of spontaneity and energetic flair. Characters such as the D, O, W, g, and y really do "swing" with unbridled confidence and joy.
Rosemarie says about her typeface: "From the experience with my design company I recognized the need for fonts with personality. Wiesbaden Swing is my contemporary contribution to the field of calligraphy, a font which offers a fresh and unconventional approach to typography". This family has both regular and bold weights which include a Cyrillic version and a set of Dingbats. The Dingbats are light-hearted symbols for holidays, children's products, and menus.
[Rosemarie Kloos-Rau, November 2008]
Web: http://www.rau-design.de/
Fonts designed by Rosemarie Kloos-Rau