Nick Shinn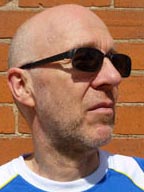 Nick Shinn was born in London, England, in 1952, and educated at Bedford School. He has a Dip.AD in Fine Art from Leeds Polytechnic (1974).
He moved to Toronto, Canada in 1976, and is a Registered Graphic Designer (RGD) in the Province of Ontario, Canada. During the 1980s he was an art director and creative director at a number of advertising agencies. He went digital in 1989 and started Shinn Design, specializing in publication design. Since 1980 he has designed over twenty typeface families for a variety of publishers. In 1999 he launched Shinntype, which publishes and markets his fonts worldwide. ShinnType fonts are available from Faces, Fonts.com, FontHaus, FontShop, Fontworks, MyFonts, Phil's Fonts and Veer.
Shinn has written for magazines such as Eye, Druk, Graphic Exchange, and Typographic, spoken at the ATypI and TypeCon conferences, and taught at Seneca College and York University in Toronto. From 2000 to 2006 he was a board member of the Society of Typographic Aficionados (SOTA).
"Beautiful letters aren't enough to make a successful typeface; I also want to create faces that are design solutions."
[Nick Shinn, January 2009]