Nick Cooke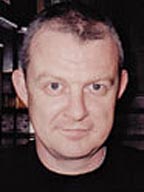 Nick Cooke was born in Hyde, Cheshire, UK, and studied Graphic Design at Blackpool College . Nick started as a lettering artist in London in 1982 crafting type by hand for book jackets.
After working in a series of crap jobs whilst surreptitiously designing his own typefaces, he launched his G-Type foundry in November 1999 in order to develop innovative, original, but most importantly, usable typefaces.
He and his wife escaped the rat-race in 2001 and now live in the Yorkshire Dales.
[Nick Cooke, November 2003]