Martin Wenzel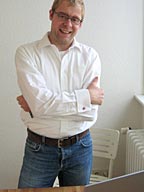 Martin Wenzel was born (1969) in Berlin, where he was the first in Germany to be trained in typesetting using an Apple Macintosh (1991). He studied Type and Graphic Design at the Royal Academy of Fine and Applied Arts in the Hague, the Netherlands (completed 1998), where he lived until 2005.
Between 1991 and 2000, Martin published the fonts FF Marten, FF Rekord, FF Primary, and FF Profile, and contributed twice to the FUSE project with his typefaces F InTegel and F Schirft.
FF Profile, his sans-serif text face, was awarded with the Certificate of Excellence at the Type Directors Club competition in 2000.
He now resides in Berlin, working on a diversity of type design projects and combining his typographic knowledge with his long years of experience as a graphic designer.
[Martin Wenzel, March 2006]
Web: http://www.martinplus.com/
Fonts designed by Martin Wenzel