Mark van Bronkhorst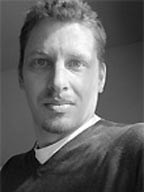 Mark van Bronkhorst is the designer of numerous commercial typefaces including MVB Magnesium, MVB Verdigris, and ITC Conduit Light, one of International Typeface Corporation's best-selling type families.
He recently designed the new corporate type family for Bank of America Corporation. He has also developed typefaces for Adobe Systems, FontHaus, FontShop, International Typeface Corporation, Warner Bros., Whole Foods Market, Fast Company, Disney, and others.
Since 1991 he has headed MVB, a design firm specializing in typographic projects, where he has designed award-winning publications and other print for various clients. He has been a design and marketing consultant to significant type companies, including Agfa, Faces Ltd., FontHaus, International Typeface Corporation, and FontFont/FSI FontShop International.
Van Bronkhorst is founder of MVB Fonts, a foundry that designs and produces original typeface designs. His office is in Albany, California (Berkeley area), minutes from San Francisco.
[Mark van Bronkhorst, June 2004]
Fonts designed by Mark van Bronkhorst