Mark Jamra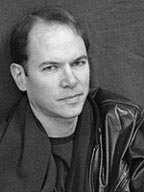 Mark Jamra is a type designer, typographic designer and Associate Professor at Maine College of Art in Portland, Maine, USA. He has designed and produced typefaces for over 20 years and is the founder of TypeCulture, a digital type foundry and academic resource. He also designs books, creates short documentary films, and is a partner in Alice Design Communication, a collective of communication designers and specialists in Portland.
His typeface designs include: Alphatier, Brynmorgen Greek, Expo Sans, ITC Jamille, Latienne, Tacitus, and Kinesis Std, an Adobe Original. His lettering and typefaces have been shown in numerous exhibitions and have received awards from the Type Directors Club and the Association Typographique Internationale.
Mark graduated with a BFA degree from Kent State University, USA, and completed his graduate studies in 1983 at the School of Design in Basel, Switzerland. He has lectured, conducted workshops and taught graphic design, typography, letterform design and type history at colleges in the U.S. and Europe. He has also been a typographic consultant to the Hewlett-Packard Research Laboratories in Bristol, England, and for URW Software & Type GmbH in Hamburg, Germany.
[Mark Jamra, February 2007]
Fonts designed by Mark Jamra