Günter Gerhard Lange (1921-2008)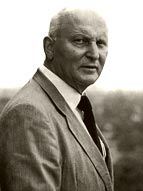 Günter Gerhard Lange was born in Frankfurt-an-der-Oder, Germany, in 1921. His education was interrupted with the outbreak of the second world war when he was called into military service. Only a year later he suffered a serious injury, and the subsequent loss of his leg lead to a medical discharge from the German Army.
In 1941 he embarked on a masters course at the Academy of Graphic Arts and the Book Trade in Leipzig. He studied calligraphy, typesetting, and printing with Professor Georg Belwe, and drawing, etching and lithography with Professor Hans Theo Richter. On completing his course Lange took the position of assistant to Professor Walter Tiemann at the Leipzig Institute. During the early post-war years Lange worked as a freelance artist in Leipzig.
In 1949 he moved to Berlin and enrolled at the University of Pictorial Arts, studying freelance art with Professor Paul Strecker and drawing with Professor Hans Ullman. On graduation on returned to freelance work with his first major client the typeface foundry, Berthold AG. He was promoted to artistic director in 1961 a position which he held until 1990.
He was not only the designer of classic typefaces such as Akzidenz-Grotesk, Berthold Bodoni Old Face, and Imago, but also a communicator and teacher who was an inspiration to many young type designers.
He died in 2008 at the age of 87.
[DJD, December 2008]
Fonts designed by Günter Gerhard Lange