Garrett Boge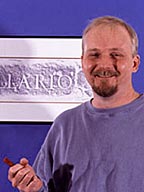 Garrett Boge has 20 years of professional lettering and type design experience. He began his career as a lettering artist and type designer at Hallmark Cards in the early 1980s, leaving to establish his own studio, initially in Kansas City and later in Seattle, where he now works out of his home/studio in the historic Pioneer Square district.
Acquiring his first Macintosh in 1986, Garrett was one of the first independent type designers to embrace desktop font development tools, and to start his own digital foundry - LetterPerfect. In the ensuing years, he has designed more than a dozen original typefaces and produced over a hundred custom and proprietary faces for major companies such as Hallmark, Viacom, Microsoft, Monotype, and Apple Computer. LetterPerfect's growing line of original display fonts shows both his early influence as a greeting card lettering artist, and his more recent interest in reviving historical lettering styles (a passion shared with his colleague and bi-coastal business partner, Paul Shaw).
Over the past several years, Garrett has pioneered and refined techniques for making art-quality rubbings from classical inscriptions.
[Garrett Boge, January 2002]
Fonts designed by Garrett Boge